Pool Decks
Many of today's materials and lighter color pavers reflect away heat, and in some cases remain cooler and more comfortable on bare feet! Paver pool decks offer a "Resort-type" feel, deserved after investing what goes into building a pool!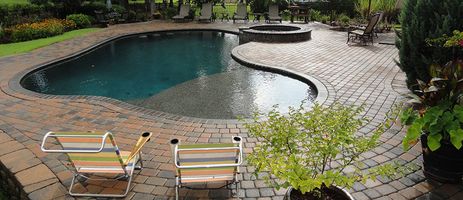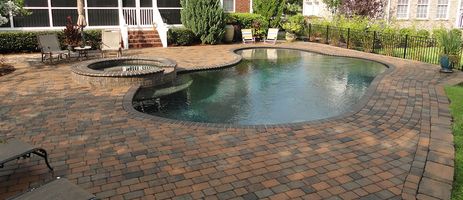 Let's face it, the majority of what's seen is the pool deck, and the decision on what materials, patterns and colors are used can make the difference between having "just a pool", and having an unbelievable space!
Accu-Brick offers the highest quality materials that ensure limitless styles and options to make your special pool deck the great destination you've always imagined!
When it comes to maintaining your paver pool deck, nothing could be easier! Pavers resist staining and are impervious to molds and algae.
Plumbing and electrical lines can be accessed easily by simply removing the pavers then replacing them upon completion. No need to tear up your space!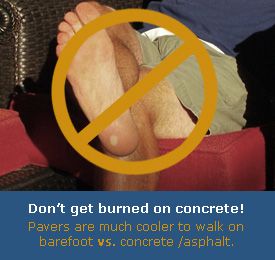 In some cases, Accu-Brick is able to utilize an overlay process, which places the pavers directly over the existing space, saving you time and money!
Pavers maintain a natural look, and also have beveled edges that are easy on bare feet and toes!
Unlike concrete, or stamped concrete surfaces, pavers don't take any time to cure, or settle! Dive right in!
Pavers ensure you're getting the most from your outdoor pool, setting it apart from other people's pool spaces. It's the most cost effective option you can utilize to enhance your pool!
Be smart! Thinking of your pool five to ten years down the road, you can have the peace of mind that pavers would have continued to bring its beauty and color and inviting atmosphere season after season! It's all part of respecting the actual investment involved and also expecting more from your outdoors!
What our customers are saying
"The planning and suggestions you helped with worked out perfectly. This patio has really 'opened up' our home and added a new level to our outdoor living. My only regret is that we didn't have it built 10 years ago."
- Angie from Myrtle Beach, SC
"It was so easy, we just called them and let them do the rest of the design, the construction to clean up. Your company are true professionals. After our driveway was completed, my husband loved it so much that he went and bought a smaller car, so that we could see more of our beautiful driveway. No kidding."
- Jeff & Ginny from Mt. Pleasant, SC
"It is through your professionalism and knowledge that I now have the perfect addition to my home without the additional expense of concrete removal. I can assure you that I will be recommending your company to everyone."
- Tammy from Raleigh, NC