DRIVEWAYS
Paver driveways are aesthetically pleasing and extend the beauty of your home all the way to the curb.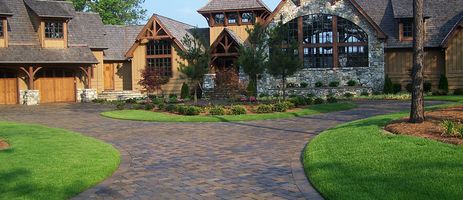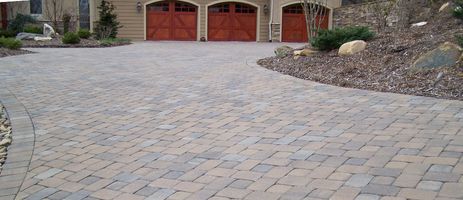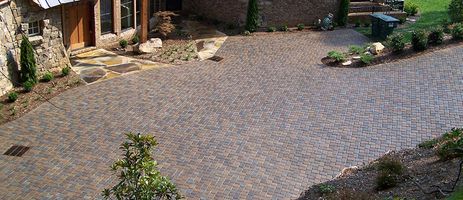 Pavers ensure the beauty of your investment by eliminating the hassle of cracks, patches and unsightly repairs that can ruin a concrete, or asphalt driveway. Pavers offer a limitless array of colors and patterns that truly allow you to set your home apart from the rest in an aggressive home market.
Oil leaks and other fluids from vehicles are easily removed from pavers, unlike concrete and asphalt.
A beautifully installed Accu-Brick Paver Driveway helps to reflect the standard you expect of your home.
Pavers offer far more "bang for your buck", than concrete or asphalt driveways.
In case of needed repairs, cracked or broken pavers are easily removed and replaced without the need of time consuming and disruptive practices needed to maintain concrete and asphalt.
Pavers handle freeze and thaw cycles much more efficiently than concrete or asphalt driveways, and allow for constant expansion and contraction in the joints between them.
Patterns double as methods to thwart potential shifting and rotations of the pavers.
Proven installation methods and materials used by Accu-Brick reduce the risk of weeds and ants.
Accu-Brick takes pride in being a "Master of One", as opposed to a "Jack of All Trades". Our commitment to quality, efficiency and fair pricing makes us the best choice for you and your driveway.
Pavers offer you a courtyard atmosphere, versus a runway in front of your home.
In today's competitive housing market, a paver driveway can be the touch that separates your house from others by creating an interest not there with concrete and asphalt surfaces. It offers an inviting feeling before you've even entered the house.
Investing in a paver driveway is also an investment in peace of mind. You'll know that year after year, you'll walk out to the same beautiful driveway you fell in love with at the time it was installed. It's a peace of mind that concrete and asphalt driveways do NOT deliver.
What our customers are saying
"The planning and suggestions you helped with worked out perfectly. This patio has really 'opened up' our home and added a new level to our outdoor living. My only regret is that we didn't have it built 10 years ago."
- Angie from Myrtle Beach, SC
"It was so easy, we just called them and let them do the rest of the design, the construction to clean up. Your company are true professionals. After our driveway was completed, my husband loved it so much that he went and bought a smaller car, so that we could see more of our beautiful driveway. No kidding."
- Jeff & Ginny from Mt. Pleasant, SC
"It is through your professionalism and knowledge that I now have the perfect addition to my home without the additional expense of concrete removal. I can assure you that I will be recommending your company to everyone."
- Tammy from Raleigh, NC