Paver Sealer
Although your new paver space will look beautiful for years, like any household investment, you can protect and enhance its beauty with a cleaning and sealing treatment from Accu-Brick.




Accu-Brick uses only the highest quality products that have been company tested for over 20 years.
In most cases, Accu-Brick will come and execute a proven three-step process.
Cleaning your pavers with proper chemicals.
Initial coating of sealer, which is absorbed by the pavers.
Final coat is applied. A process that has been mastered by Accu-Brick.

Helps prevent stains from oil, food and drink spillages, BBQ greases, dirt, fallen leaves and pet messes.
Slows and helps to prohibit mosses and mildew in certain environmental conditions.
Relying on Accu-Brick's 20 years of experience ensures the correct chemicals are used. Many "do it yourself" type practices and chemicals can damage and permanently stain your pavers.
Assists in weather wear and tear over the course of time.
In some cases, can be applied as early as 24 hours from the pavers being laid and job completion.
Stabilizes the joint sands used.
Deepens the colors! There are matte, gloss and natural finishes.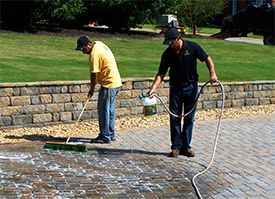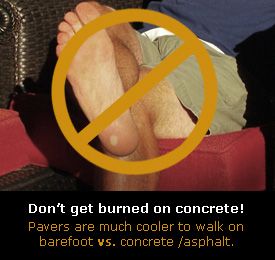 What our customers are saying
"The planning and suggestions you helped with worked out perfectly. This patio has really 'opened up' our home and added a new level to our outdoor living. My only regret is that we didn't have it built 10 years ago."
- Angie from Myrtle Beach, SC
"It was so easy, we just called them and let them do the rest of the design, the construction to clean up. Your company are true professionals. After our driveway was completed, my husband loved it so much that he went and bought a smaller car, so that we could see more of our beautiful driveway. No kidding."
- Jeff & Ginny from Mt. Pleasant, SC
"It is through your professionalism and knowledge that I now have the perfect addition to my home without the additional expense of concrete removal. I can assure you that I will be recommending your company to everyone."
- Tammy from Raleigh, NC