Expect More From Your Outdoors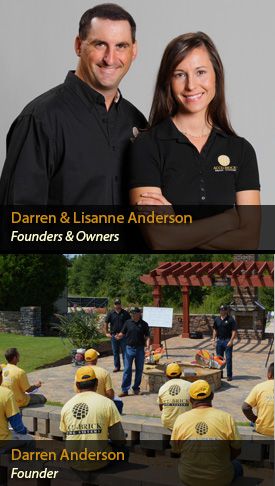 About us
The term "hardscape" is becoming more recognized throughout North America. As homeowners juggle with their busy lives they want to spend less time on maintenance and more time enjoying their family life. At Accu-Brick Paving Systems, our goal is to promote outdoor living and that sought after curb appeal. As you will see, our hardscape systems have become more versatile than any other paving products on the market.
In 1998, Accu-Brick moved into the Upstate of South Carolina, bringing with it the structural practicality and beauty of mortarless paving systems.
Accu-Brick was built on the foundations of education, experience and the understanding of how the everyday homebuyer, or builder could enhance the quality, durability and financial equitability with use of mortarless paving.
With over 5000 jobs under its belt, Accu-Brick is thriving in the Upstate of South Carolina, as well as areas around Asheville, NC and Charleston, SC. As more builders and homeowners become aware of the availability and cost benefits associated with our paver systems, the growth has been amazing!
Accu-Brick takes pride in being a "Master of One", as opposed to a "Jack of All Trades". We are recognized as leaders in our industry, and work hard to be at the forefront of material technology and design.
Pavers bring a courtyard, and resort feel to every home. As far as aesthetic beauty, the world is at your fingertips!
The biggest part of our business is maintaining relationships. We are growing at the right pace and still offer what made us grow to begin with. Accu-Brick brings our knowledge, service and a higher level of professionalism to every job we take on.
From the pathway to the pool, from the driveway to the patio, our hardscape systems compliment each other perfectly. Interlocking pavers can be used in any paving setting & can be cut to fit into any design allowing homeowners the option to personalize & improve on their natural landscape. Add a water feature with a charming design and the soothing sound will create a beautiful harmonious setting, reflecting life's sweetest pleasures!
What our customers are saying
"The planning and suggestions you helped with worked out perfectly. This patio has really 'opened up' our home and added a new level to our outdoor living. My only regret is that we didn't have it built 10 years ago."
- Angie from Myrtle Beach, SC
"It was so easy, we just called them and let them do the rest of the design, the construction to clean up. Your company are true professionals. After our driveway was completed, my husband loved it so much that he went and bought a smaller car, so that we could see more of our beautiful driveway. No kidding."
- Jeff & Ginny from Mt. Pleasant, SC
"It is through your professionalism and knowledge that I now have the perfect addition to my home without the additional expense of concrete removal. I can assure you that I will be recommending your company to everyone."
- Tammy from Raleigh, NC